Drawing Machine 1
Felt-tip markers, exercise equipment, bicycle wheels, steel, aluminium, rope, rubber, timber, plastic, cement, found materials.
2009 Melbourne Fashion Festival
PENTHOUSE MOUSE
The Capitol - Toorak Rd. South Yarra
Melbourne VIC 3000 Australia
Drawing Machine 1
was an interactive kinetic sculpture which transferred audience energy into a large-scale wall drawing. The work was installed in an abandoned fun-parlour, and encouraged a playful but poetic experience, rendering the principle relationship between man and machine visible. The pedal-powered machine, with its haphazard construction, and fault-prone mechanism, exposed the very human aparatus underlying even the most advanced technologies.
blindside.org.au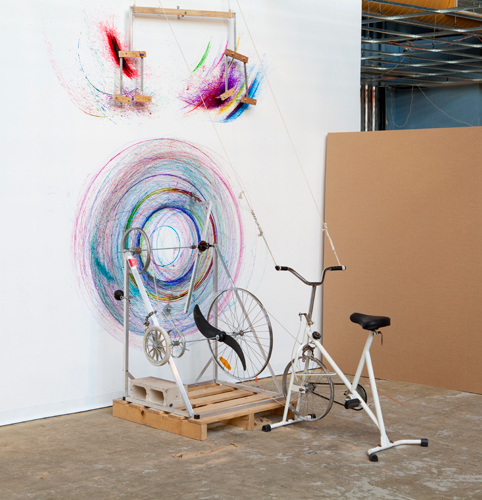 Installation view